This post contains links to an Adult Store, and is meant for those 18 years and older.
If you are easily offended, do not click on the links!

If you're looking for a discreet online store for adults only, then you should definitely check out
Eden Fantasys
! Eden Fantasys not only carries toys, they carry beautiful lingerie, erotic books, music to set the mood, wonderful candles, massage lotions and oils! In addition to a wonderful assortment of products, Eden Fantasys has honest product reviews written by real people. Most products also have an actual size file available so you can visualize what something really looks like which is something you definitely won't find at most online adult stores!
One of the things that I've been most impressed with about
Eden Fantasys
is the discreet nature of purchasing, follow-up, and shipping! You'll never receive catalogs you'd be embarrassed to open in your mailbox. You are given the opportunity to opt-in to emails when you check-out, but even the emails sent from Eden Fantasys won't leave you blushing (you probably still don't want to open them at work)! Your items are shipped quickly and arrive in a plain box with a boring return address so you don't have to worry about the mailman or your neighbors knowing what you purchased either!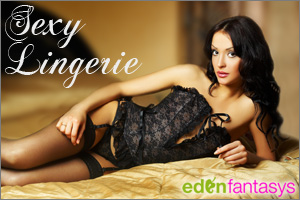 If you haven't visited
Eden Fantasys
yet, you really should! Plus you'll want to check out my giveaway during the upcoming Dear Santa event for an amazing gift card!