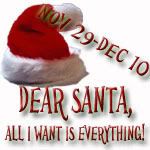 Play the light…with the Beamz laser music system!
The Beamz interactive music system allows you to do things with music, videos and games that you have never been able to do before! You can arrange, create and play music like never before. Beamz music encompasses all music styles and genres – rock, pop, jazz, blues, classical, dance, hip hop, club – no one's music interest is left behind. You can play over 100 musical instruments and sound variations (I don't think I knew there were that many before I got to play around on the Beamz player) and truly explore all musical genres which is great for any aspiring musician!
There is music for the very young to the young at heart too! Enjoy exploring the hundreds of different instruments, music clips and sounds effects within Beamz songs. Everything is setup for you to sound great – just turn it on and play the light! One of the things we really loved about the Beamz is that you really cannot fail! Straight out of the box, set-up is easy, and even our 2-year old was able to have fun playing his first songs on the Beamz. I can definitely see why the Beamz music player has been touted as one of the top gifts (Toy Insider & Gadget Gurus) for this year just after seeing my kids and family using it a few times. We've had so much fun playing along with songs and creating our own melodies too!
You can also interact with music videos and join the band by adding music or sound effects to a video's song while it is playing. Wow your friends and family by lighting up your parties and gathering with the Beamz. You'll also be able to experience gaming in a whole new light. Build your Beamz skills with the ShadowBeamz game. The Beamz model C4 that we received includes 50 top hit and original songs plus the ShadowBeamz music game. There is also additional content available online that can be downloaded to the PC that you install your Beamz player. The Beamz Player provides an extraordinary music-making experience.
Using laser beam technology, the Beamz connects to your PC via a USB hub and allows you to begin making music without having to know how to read music. It features a sleek, smaller-footprint design with four laser beams that trigger up to 12 different instruments, music clips, sound effects, or vocals as you pass your hands through the beams.
If you have a music lover in your life or someone aspiring to be a DJ, this might just be the perfect gift! It's also a great gift for someone that loves tech gadgets or video games, as evidenced by my husband who thought it was pretty cool too! We know someone on our Christmas list who will be receiving a Beamz player this year and will be so excited (they read my blog so I can't give away the surprise) - and it's not ours either, we think this is one pretty fun musical instrument that will be used in our home for years to come!
After using our Beamz player only a few times (since we've only had a few days), I can definitely see this as one musical instrument that won't grow dusty in the corner but will only grow on whoever receives it as a gift since everytime you experience the Beamz, you learn something new about the player or your own musical talents! For the teens and tweens who love their iPod and GuitarHero, the Beamz Player is a whole new way to immerse yourself in music.
You can purchase the
Beamz
player at FAO Schwarz, select Brookstone locations, and on
Amazon
! You can also purchase directly from
Beamz
! The model C4 is priced at $199.95 and includes 50 top hit and original songs plus the ShadowBeamz music game!
Disclosure: We received a Beamz C4 unit for review in exchange for our honest opinions. No additional compensation was received.