This post discusses products intended for adults (18+)! If you are not an adult or are easily offended, please skip this review and giveaway!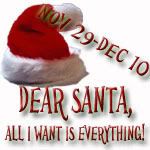 As I've said many times before, a strong marriage makes for a strong family and sometimes bringing in a little added fun never hurt (okay, my mom and mother-in-law can stop reading now if they hadn't already)!
OhMiBod
Freestyle is a wireless music driven vibrator. When its 2.4GHz wireless transmitter is connected to an iPod /iPhone (or any mp3 player), the vibe will pulsate to the music giving the user a unique dual sensory experience with ultimate freedom of movement and motion.
OhMiBod
combines music and pleasure to create the ultimate acsexsory™ to your iPod. I bet you never thought you would find an accessory like this for Christmas this year, but really it shouldn't be forgotten! This gift would be perfect for a best girl-friend too! As you can imagine, you can pick your favorite playlist as the mood dictates and allow the randomness of the music to change the sensory experience of the
OhMiBod
with every experience which is truly unique!
Connect the iPod and wireless transmitter to a home speaker system with the cable provided and Freestyle becomes the perfect accessory for partner play. Like all OhMiBod music vibes, Freestyle can work without music too. Switch to the manual mode option and explore 7 exciting pre-programmed vibration patterns. Control music volume and vibration intensity independently. The
OhMiBod
has a 25 ft. (7.5 m) range from the wireless 2.4GHz transmitter and a
rechargeable battery
for up to 5 hours of pleasure, so no more buying batteries all the time which is a definite plus!
So what would your playlist be? Are you more of a classical kind of girl, like your Honky Tonk Badonkadonk (it's country if you're wondering what I'm talking about), or need a little Hip Hop to keep you in the mood - think about it, you'll have to get creative and let me know? You can even purchase
OhMiBod playlists
on iTunes if you're looking for a little inspiration (some of the names will make you smile)! This is definitely one fun toy that shouldn't be left unpurchased...and if you can win one, you are definitely one lucky girl!
You can purchase
OhMiBod
products directly through their website or at exclusive retailers! Wanna save 15%, check out this
blog post
, watch the video and it promises you'll save on your
OhMiBod
purchase (hey, it's there blog!). There is also free shipping through December 12th, so get your order in now!
Win It - Giveaway Details!
One winner will receive an OhMiBod Freestyle ($130 value), Sliquid Organics H2O lubricant, Afterglow toy tissues, and A Women's Guide to Getting Off book! This giveaway is open to US only and will end on December 19th at 10:00PM Central! Come on, you know you want to enter this one! I made it easy to enter anonymously with Google Forms (this information may be shared with the owner and founder of OhMiBod, but no additional parties)!
Quick Link for Extra Entries!
(If it states 2 extra entries, please leave 2 comments)
Follow me on Google Friend Connect (see right hand side bar)
Milkbone Bark it Furward Post
(+5 extra entries in all giveaways, only one comment please)
Subscribe to Two Monkeys & a Washtub by e-mail/
RSS feed
Follow monkeyswashtub on
Twitter
Follow OhMiBod on
Twitter
Tweet up to 3x daily, must be 1hr apart, leave one comment with the link to your tweet (up to 3 extra entries daily):
Win an OhMiBod and feel the music (adults only) @monkeyswashtub from @OhMiBod *US*

http://goo.gl/fb/ZuuTJ

Ends 12/19!
Include the Dear Santa button (code on the upper left-hand side) on your blog's sidebar for 10 additional entries in every giveaway on every participating blog!
Disclosure: I received an OhMiBod Freestyle for review in exchange for my honest opinion. No additional compensation was received.