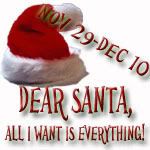 There are so many amazing products for both cats and dogs from
Petmate
and Logan and his puppy friends were able to check out a wonderful selection! Look for
Petmate
products in your local stores or ask for them by name if you can't find what you're looking for specifically and maybe your retailer can order it for you!
Definitely the perfect gift for any pet lover is
Petmate's Tagnabbit
! If you've ever been a pet parent, you know how much of a struggle it is to change your pet's tags! Not with Tagnabbit! Tagnabbit definitely makes life easier and there will be no more excuses for not taking the time to attach your pet's tags after a trip to the vets! Made of two durable nickel rings attached by a swivel so that the tags won't get tangled. The top ring easily attaches to or releases from any collar. The bottom, larger ring is the tag ring, with an easy attach/release for your pet's tags.
Sometimes when a big box of toys arrives to review, it's only nice to share with friends that are a little rougher on their toys than you are and when it said they were 3 times tougher we knew just who should try out
Petmate's Tuff Plush
...check out Logan's friends Jasper and Ada loving their new toys! Jasper and Ada definitely gave the Petmate's Tuff Plush toys two paws up for fun and durability even at the paws of a puppy! Tuff Plush™ is the softer side of tuff! These long-lasting, pint-sized plush toys are made to be three times as strong as regular plush, but still give your dog the soft, squeezable, bite-able feel that your dog loves! Features a canvas under-layer and nylon reinforced seams to strengthen a normally weak spot in plush toys.
But don't feel bad for Logan, he kept his favorite squeaky toys for himself and continues to beg to go on walks with his new
Petmate Walkabout
retractable leash! Logan loves his
Booda monster
and with 9 squeakers...his
Squeakin' Me Crazy
is definitely a favorite! As you can see he played and played until he couldn't play anymore so he definitely gives two paws up too!
Petmate pet products are sold at major retailers and at major online retailers too! You can search Petmate's website to develop your wish list! You can find Petmate on
Twitter
and on
Facebook
!
Disclosure: We received an assortment of Petmate products for review in exchange for our honest opinions. No additional compensation was received.