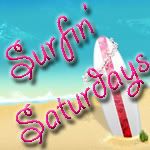 You may have noticed that happy little "Surfin' Saturdays" button over there on my right side bar. Isn't it adorable? Now, what is "Surfin' Saturdays" all about? Well, instead of having a specific hop like facebook, twitter, email, or RSS, it will be something different every week! This will help you network through all different ways! Also, I am sure you will be super excited to stop by and see what the Saturday's hop will be! I think this will be nice to find new networking resources! So, obviously you will have to stop back this Saturday to see where you will be hopping! I hope now all of you bloggers that get bored on Saturday (like me) will have something fun to do now! :)
Your lovely three hostesses will be Kim @
Chubby Cheeks Thinks
, (Me) Beth @
Two Monkeys & a Washtub
, and Jess @
And Then There Were Four
! Make sure you are a follower of all of us now so you have a head start on the game! And subscribing by email will help you to remember to check back each Saturday! I do my best to follow-back everyone, so leave me a note on this post and I'll return the favor!
Also, grab this super cute button now as a friendly reminder to stop back and also to help us spread the word! The more people that know about "Surfin' Saturdays", the more people will participate! Plus if you grab this button
now
, you will get 10 entries into any of my giveaways (you can split them up if you'd like - just note Surfin' Saturdays Button Grabbed!)!